Bryan-Bennett Library Board News
Bryan-Bennett Library Trustees are volunteers and are appointed by the Salem Mayor, with the approval of the City Council. Trustees serve three-year terms. The Bryan-Bennett Library Board of Trustees may be contacted at bryanbennettboard@gmail.com or through Library Director Kim Keller.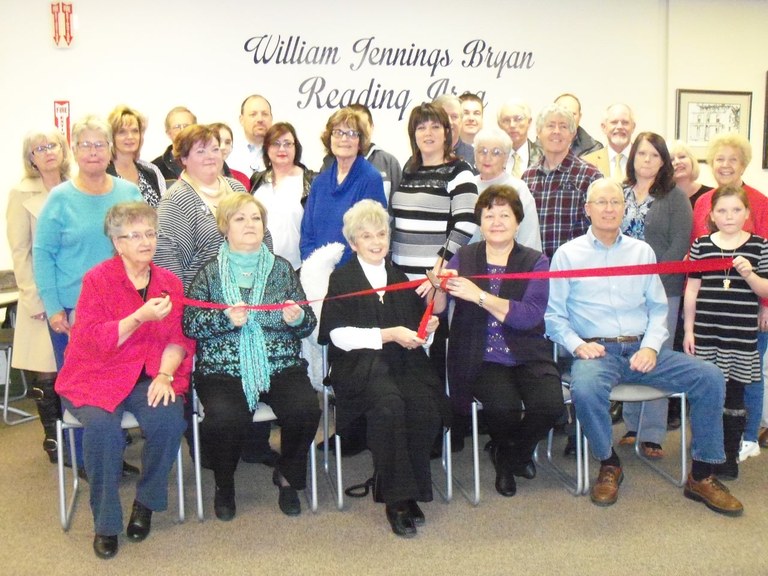 Salem Bryan-Bennett Library Board members were joined by friends from the Greater Salem Area Chamber of Commerce for a ribbon cutting to officially open the William Jennings Bryan Reading area and celebrate the 2016-2017 renovation project. Board Vice President Joyce Raver, who chaired the renovation committee, and Margie Doolen, the wife of the late Sherm Doolen, were given the honor of cutting the ribbon. Mr. Doolen was an advocate for establishing the reading area as a memorial to one of the Library's original benefactors,  William Jennings Bryan.
Bryan-Bennett Library Board of Trustees
President

Jane Gaston
Current Term: 2017 - 2020

First Appointed: May 2002

Vice-President

Joyce Raver
Current Term: 2018 -2021

First Appointed: May 1997

Secretary

Ann Wilzbach

Current Term: 2019-2022

First Appointed: May 2015

Treasurer

Gayla Wilkerson

Current Term: 2017 - 2020

First Appointed: March 2017
_________________________________________________________
Tom Champion

Current Term: 2019-2022

First Appointed: May 2015

Jack McGuire

Current Term: 2018-2021

First Appointed: July 2006

Jane Mordecai

Current Term: 2018-2021

First Appointed: May 1997

Lynn Larimer

Current Term: 2017 - 2020

First Appointed: May 2017

 Ed Dolbeare

Current Term: 2019 - 2022

First Appointed: May 2019