News & Events
Updates on Events
One-on-One Assistance Available with Basic Computer Tasks and Smart Phones in June and July
Want to set up an email account? Need help with learning how to save contacts to your new smart phone? See a circulation clerk or call the circulation desk to schedule a one-on-one session. Help topics as well as dates and times available will vary, call for more information.
One Day Programs and Events
Author of Guide to IL Historic Sites to Speak June 23 @ 6pm
Charles Titus will give a presentation on selections from his book, Exploring the Land of Lincoln: The Essential Guide to Illinois Historic Sites on Thursday evening June 23 at 6 pm. He will explain how the book came to be written and also take questions from the audience.
Mr. Titus is a native of Illinois and an emeritus member of the History Department at Eastern Illinois University, He taught Illinois history for more than twenty years.
Exploring the Land of Lincoln recently received a Superior Achievement award from the Illinois State Historical Society.
A slideshow will accompany the author's talk that will be held in the William Jennings Bryan Reading Area. No registration or fee.
Bicycle Safety Class Saturday, July 16 at 11:00
Bring your bicycle to the West parking lot of the Library for an informative and interactive morning. A fantastic guest instructor will share about bicycle safety then participants will have an opportunity to practice what they have learned in a temporary bicycle course. Participants will also be able to assemble a first aid kit to attach to their bike. There will be a drawing for decorative bike lights for participants; one pink and one blue.
Please register for this program by visiting or calling the circulation desk.
Evening Story Time
check back soon for the next evening story time date and time.
Saturday Story Times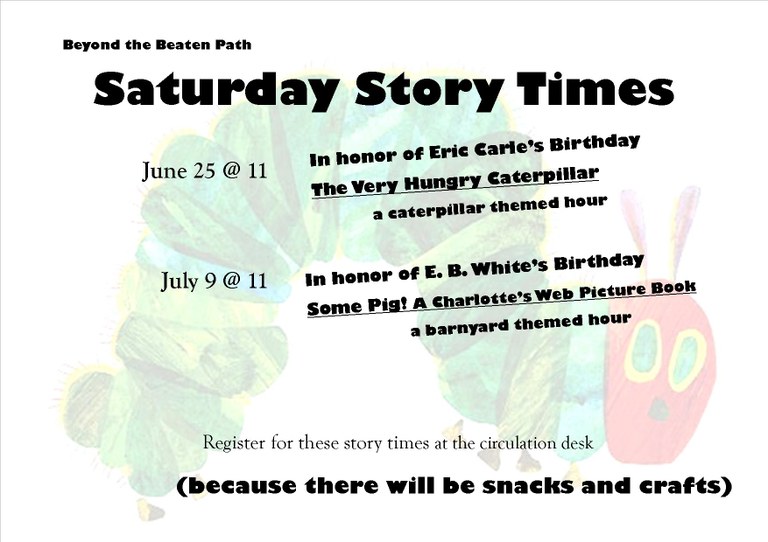 check back soon for the next Saturday story time date and time.
Book donations will be accepted beginning the first week of June. Call ahead to arrange for books to be received by Director Keller. Any books left in the book drop or outside the building will be taken to the dumpster. (618-548-3006 ext. 2)
Summer Reading 
Read Beyond the Beaten Path
"Brain Flake" reading game in June and July. One book earns patrons one flake to add to their collection that they can keep or trade in to purchase admission to special classes. Dates TBA.
solar oven smores
knot making
treasure hunt in the library
Crafternoons
Every other Thursday afternoon drop in from 1 to 3 for all ages:
Finger Knitting was on June 16
Kite Making, Rock Painting, and Pony bead/paracord creations remain
No fee to participate but registration is necessary for these programs
(inquire at the circulation desk)
Crafters prepare. The library is planning a craft materials swap in August.
Ongoing Programs and Events
Dominos Thursdays from 1 to 3
All adults are welcome to participate in the weekly dominos game.  The group meets in the Glass Office/Reference Room just inside the East entrance of the Library.
There is no fee or library card required to join the game. The group supplies their own prize for the winner. The group also brings snacks to share after the game.
The Maker Station
Ask at the circulation desk for one of four projects to create: paper airplanes, a DNA model, a sturdy bridge, or cell phone speakers. In the tub the circulation clerk provides is step by step instructions and everything needed to complete the project. Keep the project but turn in the tub and contents to a circulation clerk when finished. No fee or library card is required to participate. These are available during normal business hours for all ages. Ask at the circulation desk. In July the choices will change to: rubber band planets, dazzling kaleidoscope, balloon rocket car, and a dancing snake.
There are also 3-D card making options as gifts for mom or dads.
Legos and Locos Hour at the Library
Third Thursday afternoon of the month from 3:30 to 4:30 will resume September 15.
During this STEM activity children and their favorite caregiver are welcome to create with the library's collection of Lego blocks as well as bring their own creations from home to show to fellow builders. Children will also be able to work together to create a layout with a wooden train set and run locomotives on their railroad. Build, share, and have a snack. Registration is requested (phone 618-548-3006). There is no charge for this program.
1000 Books Before Kindergarten
The goal is to read 1000 books to a child before they enter Kindergarten. Children who have not yet entered Kindergarten are eligible to participate in this program with their caregiver. Caregivers may stop by the circulation desk to register and receive a program folder to record books. Children will receive incentives at each 100 book milestone (stickers, tote bags, buttons).
The first child to complete the program will receive a $25 cash prize. 
The concept is simple, the rewards are priceless.
Story Time
Bryan-Bennett Library in-person story time is each Friday at 10:00 in the morning.  This hour long literacy rich program is designed for young people and their caregivers.
Books in the Story Basket for June 17:
"Ready, Set, SKIP!" by Jane O'Connor Illustrated by Ann James and
"When My Brother Gets Home" by Tom Lichtenheld
Books in the Story Basket for June 24:
"Jingle Bells: How the Holiday Classic Came to Be" by John Harris Illustrated by Adam Gustavson
Children will also help with the calendar and be read a stanza of a poem each week and have opportunity to create with foam alphabet letter squares and lacing cards as well as a rotating collection of toys: a wooden train set, floor puzzles, Duplo blocks, and more.
At the end of the program children leave with a take-home sack containing a snack and craft or activity that may be related to the stories of the day.