News & Events
Updates on Events
Reception Especially for Senior Patrons
On Thursday, December 8, at 1 PM there will be a reception especially for patrons 55 and older. Musical ensemble entertainment will be the feature.
A jazz combo of musicians will play jazz selections from the 50s, 60s, and 70s from composers such as Woody Herman and Duke Ellington. Musicians will be Tom Baker from Salem on trumpet, William Reynolds from Mt. Vernon on trombone, Don Gramlick from Centralia on drums, Cliff Jourdan from Vandalia on bass, and Dennis Lading from Effingham on keyboard.
Registration at the main desk is requested. Please call 618-548-3006 to reserve a place. This event is free to the public. Refreshments will be chili, cookies, tea and coffee (with flavor options).
For more information call 618-548-3006.
One-on-One Assistance Available with Basic Computer Tasks and Smart Phones
Want to set up an email account? Need help with learning how to save contacts to your new smart phone? See a circulation clerk or call the circulation desk to schedule a one-on-one session. Help topics as well as dates and times available will vary, call for more information.
Santa to Visit the Library on Saturday, December 10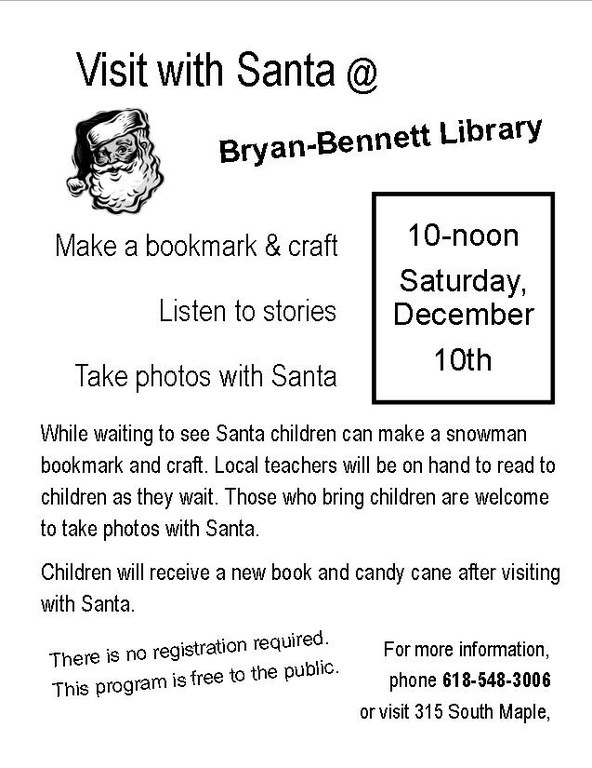 The Jolly Elf will be at the library from 10 until noon to visit with children of all ages on December 10. There is no registration required and this program is free to the public.
Those who bring children are welcome to take photos with Santa.
While waiting to see Santa children can make a snowman bookmark and craft. Local teachers will be on hand to read to children as they wait.
Children will receive a new book and candy cane after visiting with Santa.
Book Sale Days
 will be the last Monday and the previous Saturday of the month.
Book donations are accepted. Call ahead to arrange for books to be received by Director Keller. Any books left in the book drop or outside the building will be taken to the dumpster. (618-548-3006 ext. 2)
Ongoing Programs and Events
Dominos Thursdays from 1 to 3
All adults are welcome to participate in the weekly dominos game.  The group meets in the Glass Office/Reference Room just inside the East entrance of the Library.
There is no fee or library card required to join the game. The group supplies their own prize for the winner. The group also brings snacks to share after the game.
Maker Stations
Ask at the circulation desk for one of four projects to create: paper airplanes, a DNA model, a sturdy bridge, or cell phone speakers. In the tub the circulation clerk provides is step by step instructions and everything needed to complete the project. Keep the project but turn in the tub and contents to a circulation clerk when finished. No fee or library card is required to participate. These are available during normal business hours for all ages. Ask at the circulation desk. Soon the choices will change to: rubber band planets, dazzling kaleidoscope, balloon rocket car, and a dancing snake.
First Thursday Popcorn for All December 1
On the first Thursday afternoon of December from noon until 5 there will be fresh popped popcorn available for patrons at the circulation desk. There is no registration or charge.
Second Thursday Giant Games for 6th to 12th Graders
Youth in 6th through 12th grades are invited to participate in giant versions of dominos, Uno, tic-tac-toe, and more from 4 to 6 at the Young Adult table near the non-fiction sections. This will be on December 8. There is no registration or charge for this program.
Lego and Locos at the Library for All
Third Thursday afternoon of the month from 3:30 to 6:30 
During this STEM activity children and their favorite caregiver are welcome to create with the library's collection of Lego blocks as well as bring their own creations from home to show to fellow builders. Children will also be able to work together to create a layout with a wooden train set and run locomotives on their railroad. Build, share, and have a snack. Registration is requested for snack preparation (phone 618-548-3006). There is no charge for this program.
Family Game Night for All on the Fourth Thursday
Individuals and groups are invited to the May Davenport Room (gym) for boards games, cards, and puzzles on the fourth Thursday of the month from 3:30 to 6:30. December 22 will be the date of the next Family Game Night. There is no registration or charge for this program.
1000 Books Before Kindergarten
The goal is to read 1000 books to a child before they enter Kindergarten. Children who have not yet entered Kindergarten are eligible to participate in this program with their caregiver. Caregivers may stop by the circulation desk to register and receive a program folder to record books. Children will receive incentives at each 100 book milestone (stickers, tote bags, buttons).
The concept is simple, the rewards are priceless.
Story Time
Story time will recess for the month of December.
Bryan-Bennett Library in-person story time is usually each Friday at 10:00 in the morning.  This hour long literacy rich program is designed for young people and their caregivers.
Play with friends, listen to some stories, take home a treat.
"The Tale of Tricky Fox" retold by Jim Aylesworth and illustrated by Barbara McClintock and "Wisteria Jane" by Amber Harris are coming up in January.
Children will also help with the calendar and be read a stanza of a poem each week (and share shaker eggs to hear the rhythm) and have opportunity to create with a rotating collection of toys: foam alphabet letter squares, a wooden train set, floor puzzles, alphabet blocks, Duplo blocks, lacing cards, dinosaurs, and more.
At the end of the program children leave with a take-home sack containing a snack and craft or activity that may be related to the stories of the day.
Link to Bryan-Bennett Library on Facebook