News & Events
News & Updates on Events
Beat the summer temperatures.....
Cool off at the Library
It may be scorching outside, but Bryan-Bennett Library offers a relaxed, cool setting to enjoy a magazine, newspaper or book. There are maker stations where patrons of any age may challenge their DIY aptitude by creating unique crafts with some of our pre-packaged kits. The Library is open Monday through Friday, 10 a.m. to 7 p.m., and Friday & Saturday, 9 a.m. to 2 p.m.
Spring National Geographic Kids Magazine Game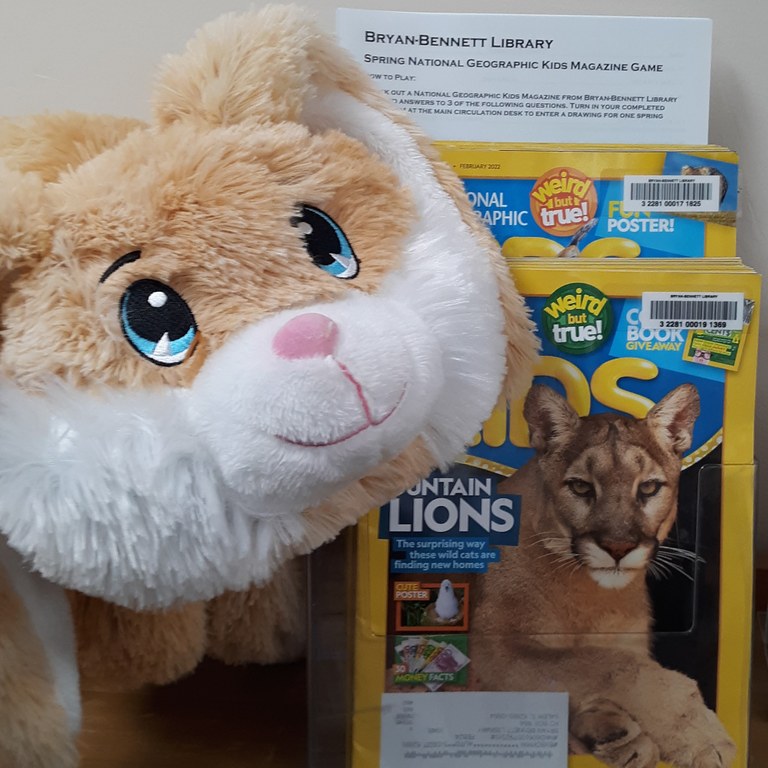 Congratulations to Valerie! Winner of the Spring National Geographic Kids Magazine Game and one big bunny!
One-on-One Assistance Available with Basic Computer Tasks and Smart Phones
Want to set up an email account? Need help with learning how to save contacts to your new smart phone? See a circulation clerk or call the circulation desk to schedule a one-on-one session. Help topics as well as dates and times available will vary, call for more information.
Ongoing Programs and Events
Dominos Thursdays from 1 to 3
All adults are welcome to participate in the weekly dominos game.  The group meets in the Glass Office/Reference Room just inside the East entrance of the Library.
There is no fee or library card required to join the game. The group supplies their own prize for the winner. The group also brings snacks to share after the game.
Fiber Arts Circle
The Needles, Hooks, and Books Fiber Arts Circle for all skill levels will break for the summer and meet again in September. This group is for all who enjoy or want to learn knitting, crocheting, sewing, embroidery, or any fiber art. Bring a finished or current project or book to show off, or start a new project with the library's supplies. Join us in the glass office for conversation and begin or continue a project. The group will meet from 3:30 to 5:30. There is no registration, charge, or library card required.
Maker Stations
Ask at the circulation desk for one of four projects to create: paper airplanes, a DNA model, a sturdy bridge, or cell phone speakers. In the tub the circulation clerk provides is step by step instructions and everything needed to complete the project. Keep the project but turn in the tub and contents to a circulation clerk when finished. No fee or library card is required to participate. These are available during normal business hours for all ages. Ask at the circulation desk. Soon the choices will change to: rubber band planets, dazzling kaleidoscope, balloon rocket car, and a dancing snake.
1000 Books Before Kindergarten
The goal is to read 1000 books to a child before they enter Kindergarten. Children who have not yet entered Kindergarten are eligible to participate in this program with their caregiver. Caregivers may stop by the circulation desk to register and receive a program folder to record books. Children will receive incentives at each 100 book milestone (stickers, tote bags, buttons).